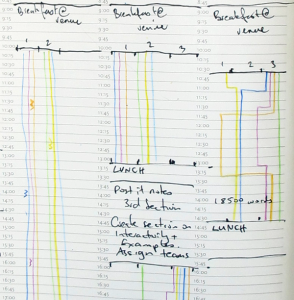 Day 4. Up early and ready to go! After breakfast we continued work on the development of the Interactivity section, and some reviews of the first section.
During this process I have been inspired by the conversations about notation systems. Notating the process and structure of content is something I have wanted to tackle for a while but have found it a difficult topic to approach. This Book Sprint on notation systems comes at just the right time as only a few weeks ago I wrote a python app for drawing data out of Booktype (the software I use for Book Sprints) to visualise in basic ways contributions to a book using the D3JS data visualisation libraries (see earlier post on the CETIS Book Sprint). Now I can dig a little deeper.
I began this morning with some simple drawings mapping contributors (each with a different colored line in the included picture) against time and content (section 1/2/3). It is very basic but gives some idea of how more complex the content and inter-personal dynamics get as the book progresses through various stages. Already I can see useful things in the data and I am really curious to know what could be learned by keeping good notes and notations for comparing different Book Sprints. I firmly believe that refining notations systems like this will be become an increasingly important part of researching and documenting the Book Sprint methodology.
This morning we started a little late as the team is in good spirits but tired. Each day has been a minimum of 12 hours work so far and they are starting to feel tired. We will finish early tomorrow (about 1800) but for now it is important to find the energy to keep writing and to also begin the reviewing processes.
Update: 23:45: It has been a long day. We have promised ourselves that we will not go home until all the content is done leaving just clean up of the text tomorrow. So far we are at 27,000 words and there is about another hours work left. We have also already started reviewing sections and chapters and tweaking them to improve the flow and readability. Its good to start this early and we will continue on this vein first thing tomorrow.