This morning a new Book Sprint started at the Center for Collaborative Creativity in Kings Cross, London. There are 7 sprinters from NGOs that work with monitoring and analysing data that governments make available. Its a pretty diverse group with one person from each continent (except Antarctica) present.
This morning we started in typical Book Sprint style with introductions and a broad discussion of what the book should be. We created post-it notes from this discussion and then grouped these on the wall. We then formed 3 groups, each to take a major theme and break it down further. Soon lunch and a presentation of the major sections of the book as determined by each group.
This Book Sprint is brought together by the Open Knowledge Foundation and facilitated by Adam Hyde.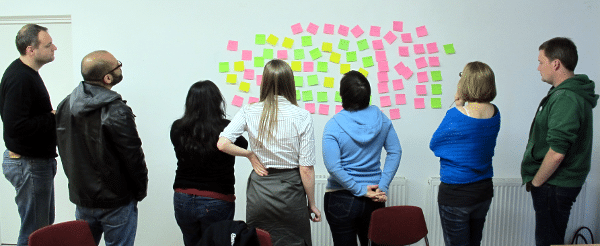 Update Day 2: half way through day two, the book is looking good. 10,000 words and great conversations. We also have an illustrator on hand to work out some diagrams.
Update Day 4 : Final leg. 18,000 words and nice illustrations. Almost done.
Like and help us promote this post