Book Sprint with Publish What You Pay
We are in the middle of our first Book Sprint for Publish What You Pay an international coalition of civil society organisations working to ensure transparency and accountability in oil, gas and mining. Participants are from eight countries and all PWYP members or affiliates. Together they are writing a practical guide to help civil society utilise the Extractive Industries Transparency Initiative (EITI) to improve governance of the oil, gas and mining industries. EITI issues reports on the industry and civil society can use the data to inform public debate and substantiate advocacy efforts. They can also help inform the EITI reporting process. Often CSOs are the only people with the access to local communities directly impacted by mining or oil extraction in their backyard and civil society can perform a vital function, influencing what kinds of data gets collected. The first part of the guide is already existing online and was written by just one person. For the next two parts, PWYP felt like they really needed the on-the-ground experience of some of their members. The guide will be filled with country specific examples and practical advice for civil society to engage with EITI.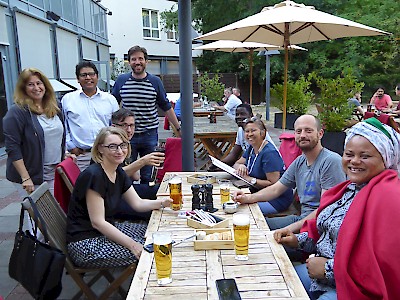 Since this Book Sprint is not far from home for us, just outside of Berlin, we've also been also able to introduce the participants to the excellent beer and cuisine of Germany including Currywurst!