Inside the Editoria Community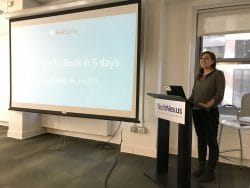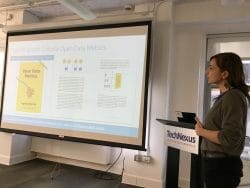 Book Sprints operations manager and facilitator trainee Karina recently travelled to Chicago, Illinois to attend the Editoria Community Meeting. Book Sprints rely on Editoria as the technological infrastructure upon which our facilitators and Sprint participants collaborate to author, edit and ultimately, produce books in the browser.
As Editoria is 100% community-led and open source, it is important to the project's sustainability that organisations using it show up to decide its functional roadmap, as well as to evolve issues related to community and sustainability.
This is the third time the Community has met, and the second time that Book Sprints has been able to attend and participate. We were delighted to give a presentation based on our workflow, which is quite different from the other organisations using Editoria today. Because Sprinters are all in the same room, we don't need the system to manage permissions (that's what our facilitators do!), for example. Most of the organisations using Editoria are university presses or library publishers, and in these cases, gating workflow based on permissions can be vital. For this reason, it's very important for representatives of each use case to attend and vocalise their needs so that we can all continue building and sharing this system together.
Karina's talk also highlighted some of the other tangible ways Book Sprints gives back to the community, including through these book design templates.
Overall, the meeting was extremely productive. The group welcomed a new use case which is from the government sector – a platform built with Editoria to produce audit reports for judiciary contexts. For the first time, the community appears diverse in terms of organisation types, geographic spread of participants, and content type outputs. We look forward to continuing to work for this tool that certainly works well for us, and to attending the next Community Meeting, date and location to be announced soon.