Announcing the launch of Sprint Lab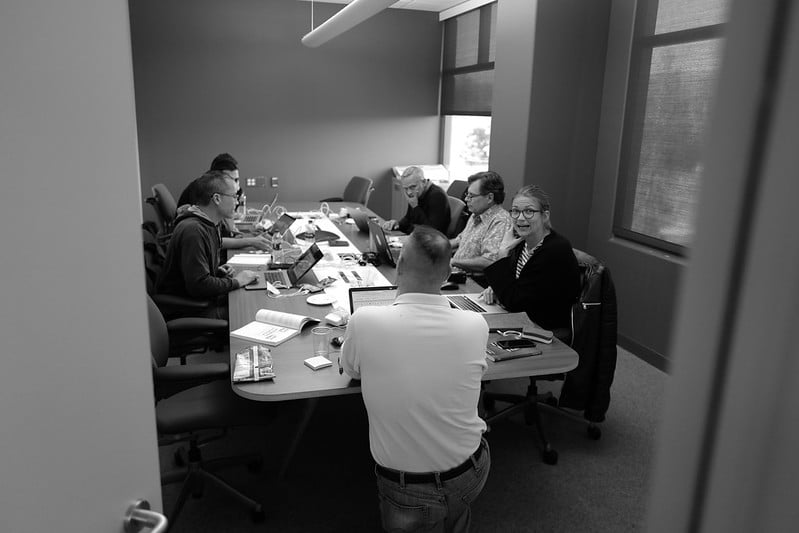 After over ten years and one hundred and fifty successful Sprints, we are pleased to announce the successful launch of SprintLab earlier in 2019. With more than five Sprint Lab events completed, we are happy to share this outgrowth as a new forum for exploring all things related to the production of collaborative knowledge including new facilitation methodologies, new content types, formats, and more.
So far, the experiments conducted by Sprint Lab have explored sprinting with pre-written content, conference proceedings, book update sprints,  open textbook (OER) production, and online course Sprints. In each of these cases, the client organization approached us with a request for facilitation that was slightly outside of the typical Book Sprint facilitation methodology. Rather than decline opportunities to push the limits of facilitation and rapid, collaborative content generation, Sprint Lab encourages it. As the experience of experimentation benefits both our team of facilitators and the organization wishing to collaborate Sprinters can bring creative ideas, and if needed, the 'hard' deliverable of  a finished result in 0 – 5 days is relaxed. 
We've developed the art of the Book Sprint to a very high degree. We know how to support to produce a book in zero to five days. Now, Sprint Lab is a critical next step to keep ourselves on the cutting edge of facilitation methodology. At the same time, it's wonderful to now offer some flexibility in the approach for clients who have a desire to experiment with content and collaboration.
"We were writing a handbook and rhetoric guide that any instructor teaching English 100 can use." said Billy Meincke, OER Technologist at University of Hawaii at Manoa. "We got it done in less than a week. So applying the Book Sprints process is really accelerating the adoption and the availability of OER here at the University of Hawaii."
If you are interested in learning more about traditional Book Sprints or Sprint Lab possibilities, please let us know.