Data Ecologies Book Release
On Turtles & Dragons
Produced with Group of authors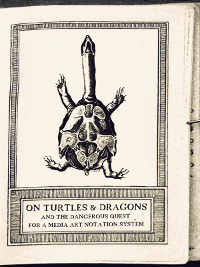 The book of the sprint that finished on Saturday is now released! You can find it all here
http://turtlesanddragons.booksprints.net/
Available now in 2 ebook formats (epub and mobi). The book looks great and has 32,000 words of wonderful exploration of the topic of notations for media art. It was written in a 5 day Book Sprint in Linz, Austria. 6 people attended the sprint although we were down to 3 at the end since not everyone could stay for the entire event (see earlier posts below for more info on the sprint).
This is version 1.0 of the book. After version 1 has had some attention there will be a paper bound release available through an online print on demand service.
The second version (1.1) will also come with a request for more content, specifically for more examples to be included in the last section.