Netzwerk Zukunftsorte on Real Estate Development for the Common Good
überMorgen - Vom Leerstand zum Zukunftsort
Produced with Netzwerk Zukunftsorte, Nov 5-8, 2021
Over the years, we have conducted Book Sprints in many exciting places around the world, and traveling to unfamiliar locations is one of the highlights of a facilitator's work life. However, we were delighted to receive a request from "Netzwerk Zukunftsorte" to meet at a beautiful rural estate north of Berlin in November 2021. After sprinting in Nacala, located in the north of Mozambique , two weeks ago, a Book Sprint on our own doorstep sounded pleasantly exotic.
Real estate for the common good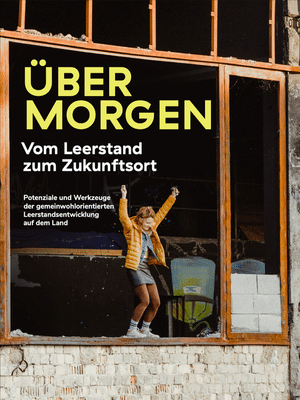 Netzwerk Zukunftsorte is a driver for community-oriented real estate development in rural East Germany. It offers knowledge transfer, networking formats and vacancy matching for property owners, municipalities and those who want to buy land and set up life and work communities in rural areas. The network's focus lies on developing sustainable, communal usage concepts through alternative financing models to rebuild as much vacancy as possible instead of demolishing buildings.  
The Book Sprint took place at one of the community projects that the network is currently consulting. Boltenhof is an organic animal farm surrounded by forests, fields and countless lakes of an ancient glacial valley. It provides accommodation, a fine dining restaurant, event rooms, co-working spaces, workshops and much more, making it the perfect place to write about work and life communities. We were provided with exquisite food, went for walks through the surrounding autumn landscape and visited the animals on the farm during the breaks.
Voices from the field
The goal was ambitious. In just four days, five network members reflected on the potentials, challenges, funding opportunities and development strategies of real estate projects that aim at the common good. Using concrete examples, the resulting book creates an overview and a basis for argumentation and empowers the reader to take the first steps. It bundles the expertise and experience of the authors and another 15 experts who were interviewed in preparation for the Book Sprint. 
Our facilitator Karina had designed a series of preparatory workshops especially for the group, in which the participants developed a vision for the book, identified relevant topics and experts from the field, conducted interviews and analyzed the findings. The book thus brings together the voices and perspectives of numerous swtakeholder groups: mayors as well as representatives from foundations, municipalities and building authorities and, last but not least, people who pursue the vision of transforming vacancies into vibrant  communities. 
Congratulations to the authors. It was a great pleasure to form a community with you during the Book Sprint. Thank you so much for the inspiring conversations, your hard work, the many good jokes and that all of you kept your spirits high throughout the whole process. We can't wait to have the book in our hands soon.
List of Authors
Uleshka Asher
Kathrin Bade
Lena Heiss
Philipp Hentschel
Julia Paaß
Facilitation: Karina Piersig