What is Queer Today Book Sprint done!
What is Queer Today Is Not Queer Tomorrow
Produced with Heidy collective
We are in the final hours of a three-day Book Sprint with the Berlin based (heidy) collective. Named after the secret Skype emoticon for squirrel (when Skype still had secret emoticons), (heidy) even has a manifesto outlining their stance against linear modes of production and working to deadline. A perfect candidate for a booksprint of course!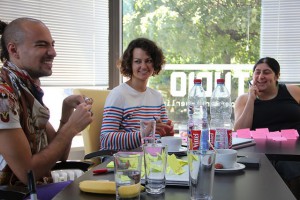 However in just three days they have produced a book capturing the 2 month long exhibition (and many more months of hard work) at the nGbK gallery, which they curated entitled "What is Queer Today Is Not Queer Tomorrow". The book is intended to be both a documentation of all the artworks, installations and performances which were part of the exhibition and the process the group went through in putting the exhibition together.