OpenStack Security Book Sprint Started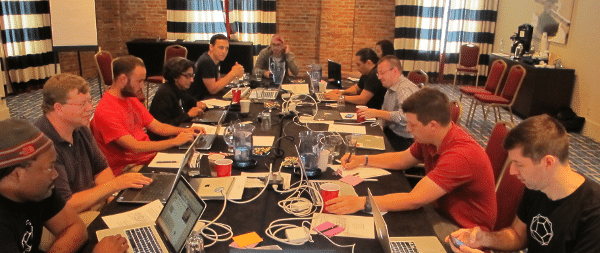 The OpenStack Security Guide Book Sprint began today in Annaplois (USA) with 12 participants. There is a wide diversity of skills and experience at this sprint with many top level experts attending from organisations such as Redhat, HP, Intel, the NSA, VMWare and Cloudscaling amongst others.
Today we outlined the book and discussed in detail the scope and contents of the book. Tomorrow we start early to begin writing.
The OpenStack Security Guide is the second Book Sprint for the well known cloud computing project. The first book "The OpenStack Operators Guide" was sprinted in February (Austin, USA) and released immediately after – in time for the OpenStack conference. The Operators Guide maybe re-published by OReilly. The well known publisher had previously tried to write a book on OpenStack but it wasn't published. As a consequence OReilly decided to re-publish the Book Sprinted book and donate their own unpublished docs to the Open Stack community.
The OpenStack Security Guide & OpenStack Operators Guide Book Sprints facilitated by Adam Hyde.