Community Publishing – An Open Process for Open Knowledge
Recently, the book Open Knowledge Institutions was openly published by MIT Press. This title went through a radically collaborative and transparent writing and publication process: From its collaborative drafting facilitated by the Book Sprints team, to its open review period as the inaugural title in the MIT Press's Works in Progress program, to its open publication both on PubPub and on MIT Press Direct.
On September 8, 2021 we held a webinar on Community Publishing where we shared more about this process with the facilitators, authors, and publishers. We discussed the considerations around engaging in such an open process and how this connects to the subject matter of the book itself.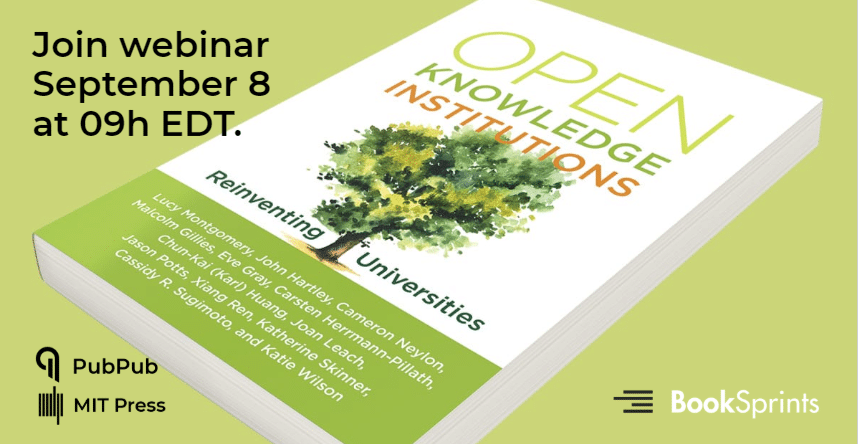 In this blog post we look at Book Sprints and community publishing platforms like pubpub who offer processes and tools to support the formation and operation of communities. It was co-authored by Catherine Ahearn, Head of Content at the Knowledge Futures Group and Karina Piersig, Facilitator and Instructional Designer at Book Sprints Limited.
A book is a community
In the words of Adam Hyde, who founded Book Sprints in 2013, a book is a community. It is a living body of text and people, and our job is to help it flourish. At Book Sprints we facilitate groups of writers to develop a shared vision, outline content, draft in groups and edit each other's work. In a Book Sprint, a lot of consensus building and decision-making between a community of writers happens through the iterative writing itself.  It is a great opportunity for peer exchange and learning from each others' perspectives and experiences. The product of a Book Sprint is a book written by a group of experts who develop a collective voice and share authorship. 
If a book is a community, then the tools and processes that support the formation and operation of the community are fundamental. We see this not only during a Book Sprint, but also in the afterlives of the projects we facilitate. The collaboration extends far beyond the initial collection of ideas and writing (and certainly begins before then as well). Community publishing offers opportunities for feedback and results in more transparent, inclusive and impactful content. It has the potential to form a group of supporters around the book that is then involved in the publishing and dissemination. 
For example, some of the books we facilitated were then published on open publishing platforms for an open editing, review, and/or reading process. From groups like Open Data Metrics, which went on to publish on the open access repository Zenodo, and Operating Cisco Application Centric Infrastructure that published on GitBooks, a platform that supports open publishing for software teams, we've observed that Book Sprints has served as a fruitful springboard for Community Publishing lifecycles. Currently, Book Sprint is working with the Collaborative Knowledge Foundation on a new extension for the collaborative authoring platform Editoria to allow publishing books online.
Community publishing is a journey
One recent open infrastructure partner for Book Sprints projects has been the Knowledge Futures Group (KFG). As a nonprofit, the KFG builds public digital infrastructure to support community-based knowledge exchange. Two Book titles, Open a Glam Lab and Open Knowledge Institutions recently made use of their publishing platform, PubPub. PubPub is developed to nurture the communities that form around the acts of sharing information and shaping that exchange into different outputs, from books to lectures to comics. The platform allows groups to establish their own models, designs, and engagement practices, which results in a wide range of projects and publications hosted on the site, as both Open a GLAM Lab and Open Knowledge Institutions reflect.
Any individual or group of people can create a new community on PubPub at any time for free, while optional, paid services are available for support. Both groups sought the advice of the platform's Content Team, and PubPub assisted them on a pro-bono basis with site design, training, and chapter production. 
Open A GLAM already came with a copy edited manuscript and a design after their Book Sprint, but needed help translating that into a site design and structure that made sense for their audience and use case. As a manual of sorts, the work's 16 authors wrote with cultural institution leaders in mind and sought to offer guidance on why and how to establish a GLAM Lab (Gallery, Library, Archive, and Museum Laboratory) of their own. To this end, they leveraged PubPub's versioning and annotation features for collecting input and maintaining a record of past editions on a chapter-by-chapter level. Small details such as keeping the community to one landing page, offering multi-format downloads of the full text as well as individual chapters in addition to the HTML, and including brief descriptions of each chapter on the homepage itself increase the ease of use of the manual for its intended readers.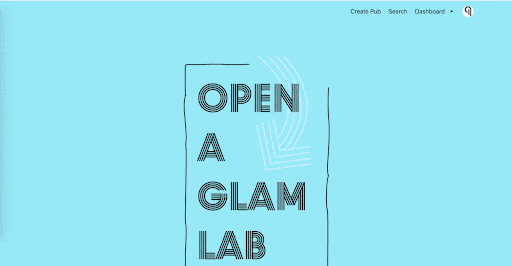 By contrast, the Open Knowledge Institutions authors emerged from their Book Sprint with a completed draft but sought further input from an even broader community before they sought formal publication by a university Press. As they put it:
​​We present the results of our work here to the wider community for annotation, commentary, constructive criticism and engagement, with a view to extending the collaborative spirit further. We want the book to gain further analytical richness and precision from crowd-sourced expertise. You are invited to join us as we work through some of the issues that may enable or stand in the way of socialising knowledge itself. 
The process that emerged was truly unique and is the subject of an upcoming webinar on September 8, 2021. First, the authors agreed to serve as the inaugural text of what was then a new open review program operated by the MIT Press on PubPub called Works in Progress (WiP). Through a time-bound open review period facilitated by the PubPub team and the work's authors and publicized by the MIT Press, the authors were able to attract feedback for their work toward the continued refinement of their ideas.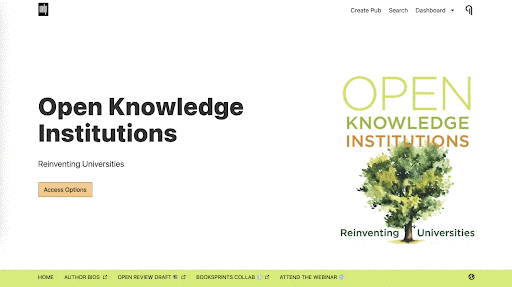 Once this review period closed, the authors submitted a revised manuscript to the MIT Press, which then conducted a blind review of the book before accepting the title for its Summer 2021 list. The "final," open access edition of Open Knowledge Institutions is now also available on PubPub (multi-format), MIT Press Direct (pdf), and in print. The design of the PubPub community for the final book seeks to highlight this multi-staged process and the involvement of many contributors. For instance, the navigation bar features links to learn more about the authors, the open review draft, the Book Sprints process, and the upcoming webinar about this very topic. Furthermore, the chapter view maintains the images (albeit small ones) of the many contributors and the bottom of the homepage includes a statement of appreciation for the anonymous peer reviewers who also contributed to the evolution of the text. 
Book Sprints was founded under the belief that knowledge creation is a fundamentally social and creative process. Platform partners that assist in supporting the work of Book Sprints participants help make community publishing more than a sprint, a journey we can all learn from.