A Book Sprint for Open a GLAM Lab
Open a GLAM Lab
Produced with UCL Qatar, September 23-27, 2019
Exciting updates in November 2021: since its release, the book has been translated into Arabic, Bulgarian, Russian, Spanish… and the Greek version is on the way!
Do you know what GLAM means? GLAM is an acronym for "galleries, libraries, archives and museums," overall cultural institutions that promote access to knowledge. Last month we facilitated our first Book Sprint in Qatar, as well as our first for the GLAM sector. It was an intense experience that lead to the beautiful and detailed book entitled "Open a GLAM Lab". You can access the GLAM Labs Community website and download the book here.
The Book Sprint was organized by the University College London (UCL) Qatar and the British Library. The 16 authors of the book represented GLAM organizations from different corners of the world, and their objective was to create a living labs cookbook: a practical, public domain and ever updating guide on how to set up a GLAM lab, physical or virtual spaces to experiment with collections.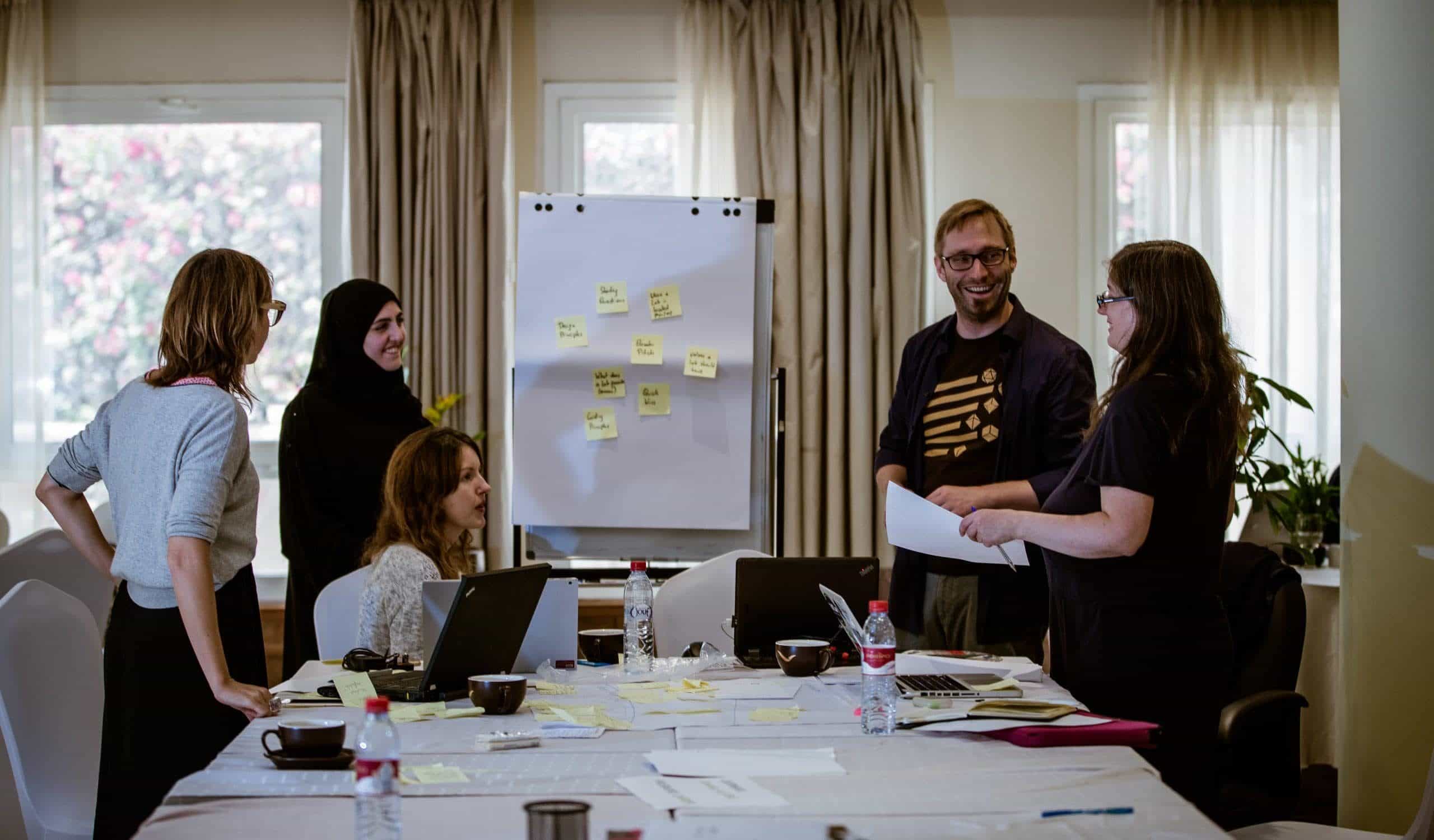 The group was talented, diverse and exciting to work with, composed of academics and experts in digital humanities. Participant Paula Bray, from the State Library of New South Wales, shared the process of this Book Sprint:
The process started with a day and a half of discussing and writing on post-it notes. What should the book be about and how would it be structured? All of us felt that it should be a practical book on why Labs exist, how they can be set up and what they need in order to thrive. We wanted to write an interesting and engaging book that anyone could pick up and read. Once we agreed on a loose structure, we formed smaller groups and started writing different sections. Over the next couple of days the team had written 40,000 words! Each team then went through a process of peer reviewing and editing each other's chapters. The final day and a half was spent editing and deleting certain sections that were repetitive and, finally, giving the book its unique tone and voice.
For Paula Bray's blogpost and pictures, click here
The official book launch to celebrate this collaborative effort took place today in Qatar. The book is also a dedication to the 100th anniversary of library education at UCL – the first academic programme for library professionals in Great Britain. As stated in the book, "what could be a greater celebration of this spirit than the combination of an innovative process used to create a pioneering book on GLAM Labs that act as disruptors in the heritage sectors?". We agree!
To check out some tweets on the Open a GLAM Lab book launch, access here and here
See more photos from the Book Sprint here, and read about another Book Sprint for the GLAM sector with The British Library here.