A Book Sprint on Human-Robot Interaction in Education
Robotics in Education
Produced with United Arab Emirates University, January 29 - February 02, 2020
We recently completed the third Book Sprint Human-robot Interaction (HRI). While the first served as an introduction to HRI for students, the second on ethics and robotics, the third takes a closer looks at the use of robots in education. It intends to be a textbook for graduate students to provide an overview of how robots can be used in education right now and outline the future for their use too.
Although there is an active research community on HRI in education, there is not yet a text book translating developments and thinking in this emerging field, to students. This book sets out to fill that gap, informing educators and researchers who wish to use robots to help students learn in educational environments. The books gives an introduction to the theories of learning and teaching which robots in education are based and provides practical advice on building robots into a curriculum, including considerations like ethics.
Due to media hype and the popular imagination about robots, "robots in education" might summon up images of robots standing in front of full classrooms, replacing the need for an actual teacher. The book debunks this idea very quickly and offers us a more realistic view: robots are intended to increase the capacity of human teachers and can be thought of as teaching assistants or aids to in the classroom.
There are two different roles robots might have in an educational setting that the book examines: the first is robots as tools, helping to facilitate and support the learning process. Good examples of this type of robots are LEGO mindstorms or Turtlebot, used to help school children and university students a like programming skills. While robots have been used in this way for over 50 years, the concept of robots as social agents is more recent and therefore also less-developed. These are robots which might look a little more human, with faces and arms and legs and are typically used as tutors in the classroom, providing one-to-one personalised attention to students, beyond the capacity of the teacher.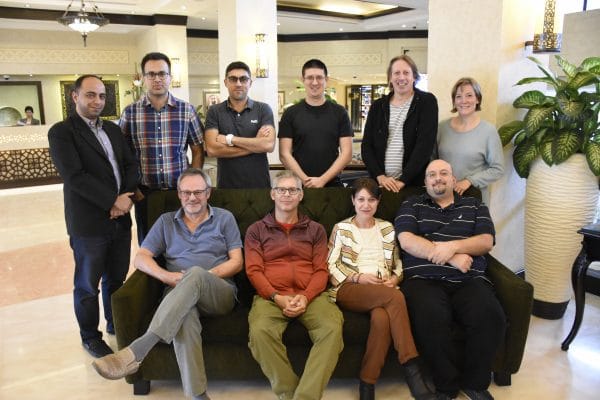 This Book Sprint took place in Al Ain, Emirate of Abu Dhabi with 12 authors as part of the research activities promoted by the AI \& Robotics Lab of United Arab Emirates University.
Click here to see the photos of the process.
UPDATE:
Sprinted at the beginning of 2020, the book has just been translated to German and published in Hanser Verlag.
The English edition will be published by Routledge.
Earlier Book Sprints on Robotics include
Human-Robot Interactions published in Cambridge University Press, and
An Introduction to Ethics in Artificial Intelligence and Robotics published at Springer.